Oita University offers international students a variety of support services, such as academic advice, information services, student health services, and tutoring.
Academic Advice
To encourage students' academic achievement and smooth acclimation to Oita University, academic advisors are assigned to individual international students. Advisors are available during office hours and via appointment.
Information Services
International Office staff are available to provide international students with various forms of information which will be helpful during their stay in Oita. The office schedule is listed here.
Tutoring Services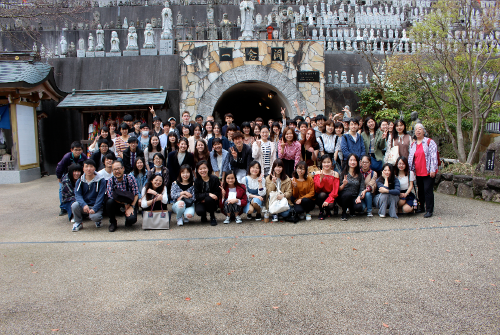 Field trip
New international students are paired with Japanese students during their first month after arrival; these "tutors" will help them acclimate to life in Oita. If international students need Japanese language tutors, their academic advisors can help them find a language tutor appropriate to their needs. If students need tutors in subjects other than Japanese language, they should discuss this with the advisors in their assigned faculty/department.
Friends of Overseas Students at Oita University
Friends of Overseas Students at Oita University is a non-profit organization established to support students from abroad. Its membership comes from local businesses, economic organizations, news media, nongovernmental organizations, Oita University staff, and others. This organization supports overseas students mainly through subsidizing the costs and fees of various events, textbooks, housing, cleaning, excursions, friendship parties, and gifts for returning students; it also provides assistance in the event of financial emergencies. Please contact the International Office for further information.