Messages from International StudentsJapanese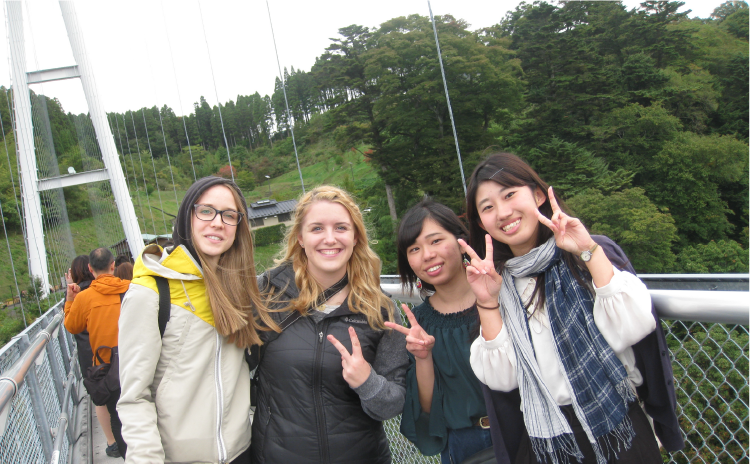 Name

Philipp Schornberg (04-05)

University

Universitat Paderborn (Germany)
My Time as an International Student at Oita University
As I came to Japan and started my term as an international student at Oita University, I was worried if I could handle a life in a very different country with a language I could hardly speak or read. But after this half year my ultimate opinion can just be that it was great and my stay was to short.
Many factors at Oita University helped me develop my Japanese further as I could have imagined in just five months. First all of course I have to mention the Japanese courses. I had to study regularly to keep up with the pace in class, but on the other hand I think that I got enough encouragement and incentive to keep up with that. In class the teachers were on the one hand always very well prepared with all different sorts of learning material, on the other hand weren't shy to respond to a students question into a different direction. But also the other lectures aside from the language courses were interesting, even if they were not part of my subject at my home university. Part of those lectures were some excursions to different spots in Oita prefecture where we got as close as we could to the Japanese culture.
But not also in lectures I learned a lot of Japanese and about Japanese culture. Another thing that had a big impact on my student life was the university badminton club where I trained quite intensely. But on that basis I could experience the relations in a Japanese society as well. Also the tutor system at Oita University helped me a lot to learn Japanese as well as find new friends outside the group of international students.
The international student centre and all other involved institutions as well did a great job supporting me in any way I could think of from basic needs like my apartment in the dormitory to the to guidance and organisation of my home-stay at a Japanese family.

Name

Yudi Thaddeus (04-05)

University

Institut Teknologi Bandung (Indonesia)
I'm glad to be able to experience a wonderful life in Oita as an overseas student. Oita University took great care about us. With the presence of International Student Center (ISC), international students can easily find help. Either from other international students who have arrived a couple months earlier, or from tutors who are Japanese students willing to help us as we study in Oita University. Even teachers are very kind and helpful.
Oita University also provides good learning facility such as video class and conference room which has televisions, computers, projectors, and other things that enable interactive learning. Oita library is also a good place to study, read books, magazines, newspapers comics, do homework, reports, researches, or sometimes I go to the library just to watch movies in the movie room. I am glad that they seem to add more and more films, especially new ones. Other important facilities are cafeteria which offers various food, coop which offers stationeries and snacks, and a travel agency who gives information about where to go, how to go, and of course we can buy our tickets there too.
Oita University is located in the part of Oita where the climate is the mildest. So I assume that if winter is so cold in Oita, then it will be colder in other place in Japan. Also if summer is so hot in Oita, it will be hotter in other place of Japan. Yet still, Oita has lots of wonderful sceneries and interesting places such as Mount Aso, Usa Shrine, onsen(spa). We went to several places, thanks to our tutors who organized the trip for us. The thing I like most is that trees are everywhere that makes the air fresh and makes the surrounding so beautiful. It is a good place to study and nice place to live in.

Name

Timothy Parker (04-05)

University

The University of North Carolina at Charlotte (U.S.A)
Studying at Oita University has been a great learning experience. Prior to coming to Oita I had many questions about what I needed to bring. I was in constant communication with Miyako Namba, an officer of ISC, Oita Uni., who answered all of my questions. Oita is a very beautiful and clean city which also has a very relaxed atmosphere. Upon arriving at Oita I was met at the airport and taken to my dorm where I was to spend the next 10 months. Once I was situated there were so many things to do such as getting your alien registration card and bank account set up. Each student is assigned a tutor and they really go all out to make sure you have everything you needed for your stay in Oita. There are many great sites to seen in Oita, including the best "Onsens" , hot springs, in all of Japan.
There are a few things that I would say to students coming over for the first time. Do not stay in your dorm room, be adventurous and meet other people. I have met many new people from all over the world at Oita. American electrical products do not work here unless you buy a transformer. If you are on scholarship, bring a few hundred dollars with you for set up fees. Some people came with little money found that it was difficult the first few days. Cell phones are definitely the way to communicate here. They are very reasonable and are much better than the ones we use stateside. Finally remember you are in a different culture, respect the traditions and people of the culture. The people here are great and have a wealth of knowledge. Enjoy you stay. It is a learning experience I will never forget.

Name

Karen Hyun (03-04)

University

San Francisco State University (U.S.A)
I've always wanted to come to Japan for quite a few years now. Due to personal reasons, I just never had the chance to come until last year. To tell the truth, I didn't expect much at all before I came to Oita because I've been told so many times how 'countryside' Oita is. But as soon as I arrived in Oita, I knew I was really going to like this place. Oita City is definitely not a huge, metropolitan city like Tokyo, but it's a pretty decent small-size city, which worked out perfect for my taste. And I really liked how much greenery they have in Oita. The nature here is unbelievably beautiful and stunning. The weather here is definitely not my favorite, but I know that it'll also remain as a wonderful memory once I return home. I've made so many great friends during the almost-one-year I spent in Oita. I was able to travel to many different places in and outside of Japan during the breaks (although all those trips costed me a fortune!). I am really going to miss this place and the people I've met here. Time really flies when you're having fun, and it really seems like just a week ago when I first set my foot in Oita. There are so many things I want to say, but I only get a page to write about my Oita experience, so I shall stop here. I really hope to keep in touch with everyone I've met while I was in Oita. I really enjoyed my one year in Oita so much that I wish I can stay here a bit longer. Oita has truly become my second home. I am going to miss Oita and its people so much. I already can't wait to come back here again!

Name

Klaus Westhoff (02-03)

University

Universitat Paderborn (Germany)
Soon I will have to return to my home country. I wonder how it will be to go back to Germany after living in Japan for 1 year. Has my perspective changed or will everything be just as it was before I came here?
Many aspects of Japanese culture are very different from my own. And that's not only the style of the houses and heated toilet seats, but also the way of thinking. While living here for quite a long time I noticed many things I wondered about. But when I talked with other people about it and how it is in one's own country I sometimes noticed that it's also strange at home.
This year was a great opportunity to start understanding Japanese culture and to reflect about my own. And to make new friends. I've been spending a very pleasant time here. Certainly this was not the last time for me to come to Japan

Name

Juliette Bellenger (01-02)

University

Bath Spa University College (England)
My semester in Oita (Japan) For my first time in an Asian country I made a good choice by coming to Oita, a small town where the people are very friendly, smiley, and helpful. I had an image of unsmiling people, always at work. in six months, that image changed. I met new people everybody from different places, and I was lucky enough to become friends with them and learn about their culture. It was not always easy because of the difference in culture, but interesting. Experienced work in a restaurant which was a good way to analyze the way people behaved and acted. I went to the university where the classes were not always that interesting, but I found that the staff was very nice, and I enjoyed conversing with them. I also practiced sports, visited places, and even tried sake"oisii", Japanese food, and my favorite activity was going to "onsen". I love it. Life here in Oita for me was relaxing, fun, interesting, and overall a great experience that I will never forget. I met so many nice people here, but it's sad to know that although we'd been close, I probably won't see half of them again in the future. Thank you to everybody, all of you who gave me a good time and changed y mind about many aspects of Japan. My favorite phrase is: "zenbu oisii"